Summer Classes July-August 2017
Tues 4-5 pm
CARTOON CHARACTERS
July-Aug 2017
Suitable for younger artists, but will provide excellent practice for more advanced students. Learn to draw basic body parts -- face, hands, arms, legs, and body -- then create your own characters. Experienced artists will be encouraged to use detail and shading to add dimension to their drawings.
Wed 4-5 pm
MONSTER POP-UPS
July-Aug 2017
In the city of Monstropolis, monsters use closet door portals to scare children.  In each class, we will learn how to draw one of the characters from the film and create a small pop up card. At the end of the term, all the cards will be assembled to make a small pop-up book of monsters.
Wed 5-6:30 pm
CREATURE DESIGN
July-Aug 2017
The TV series, Gravity Falls, follows Dipper and Mabel Pines, investigating weird mysteries. We will draw, ink, and paint real forest animals, then use features from those animals to create our own mysterious creatures. At the end of the term, you'll bind the drawings into your own guidebook of weird critters.
Fri 4-5 pm
JOKE COMICS
July-Aug 2017
The manga Azumanga Daioh follows a group of high school girls through their hilarious daily tribulations.  In each class, we will learn how to draw a 4 panel joke comic using the structure of introduction, development, turn, and result. At the end of the term, we will create a book out of the joke comics we've made.
Fri 5-6:30 pm
DIGITAL COMICS
July-Aug 2017
Supersonic Girl is an otherwise "normal" teenager from Radio City who attends high school, and fights supervillains.  In each class, we will learn about a feature of digital comics such as storytelling, panel layouts, or lettering. Topics will include character design and comic layouts.  Each student will create their own original digital comic.
Do Your Own Thing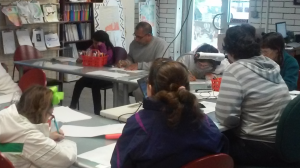 OPEN STUDIO
as space permits
The art studio is open for all Teen Impact Center members to use for developing or completing their own projects whenever space is available.  Art Studio summer hours are Tues, Wed, Fri from 3:30-6:00.  Tuesdays from 4:30-6:00 are specifically set aside for open studio use.  All are welcome to use studio materials.  When you sign in please indicate what project you are working on and what your goal is for the session. When you sign out, please let us know what progress you made.

Jagged Lines of Imagination Academy is a volunteer organization dedicated to promoting art as a vital component to developing self-expression and character.
From 2006-2015 JLI, operating as a tax-exempt nonprofit, developed an art studio and all-ages educational programs at various locations in Stockton. In 2015 JLI accomplished a primary part of its mission by establishing a public art studio where young artists can learn and practice art skills under the leadership of professional artists.
The Academy now provides all ages art classes out of that art studio, located at the Podesto Teen Impact Center (725 N El Dorado in Stockton), while the Family Resource & Referral Service supports the studio and pays expenses through grants, sponsorships and tax deductible donations.
The Academy now serves as a promotional arm for the TIC/JLI art studio, offers on-line learning resources, and continues to develop career-oriented art education programs for artists of all ages, and classroom-oriented art integration programs for teachers.
Support TIC/JLI Art Studio
Visit TIC
Donate to TIC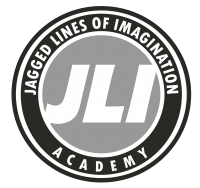 JLI's Sister Site
WISH LIST
JLI recycles used ink & toner cartridges for studio materials. Donate Office Depot/Office Max rewards points by giving the cashier JLI's phone number (209-382-7848) at checkout. Rewards pay for many studio supplies.
JLI Lead Artists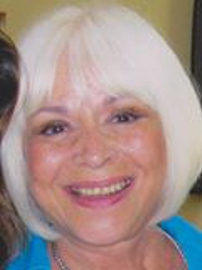 Lead Artist Ernie Martin
Ernestine Luke (professionally Ernie Martin) has owned and operated her own business – Custom Art Designs – since 1978. During that time she's met client demand by turning her hand to everything from sign painting, through wall murals to the more exotic realms of tattoo art and airbrush paintings on motorcycle gas tanks.
Ernie's personal art tends toward the fantastic – mermaids, fairies and wonderful animals. She works in all mediums, but favors pen & ink, charcoal and pastels.
Ernie studied art at Fresno City and San Joaquin Delta colleges but credits her skills to apprenticing with her own father, artist Don Martin. That experience informs Ernie's teaching. She focuses on what students can already do, and invariably encourages them to exercise their creativity. She teaches them that she'd rather see something new than something perfect.
Ernie joined JLI's team of Lead Artist's early in 2015 and has become a loyal volunteer and supporter of JLI's mission. She is also an active member of Art Expressions of San Joaquin, showing her work regularly at area galleries and art events.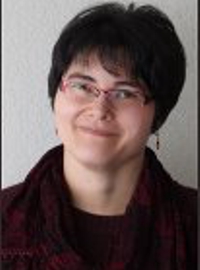 Lead Artist Betsy Luntao
Betsy has been developing and leading classes and workshops, especially focusing on figure drawing, for JLI since 2011. Her personal art mission is to "aid blossoming artists in developing their art skills with which they can tell their stories."
Betsy grew up watching cartoons and animated films, wanting to be an animation style artist from the age of 12. She still loves animation to this day and enjoys being able to connect with younger generations through animation and love of drawing. Betsy attended and graduated San Joaquin Delta College with an AA in Liberal Arts in 2005. She then founded the Graphic Cartel, a group of Stockton cartoonists who continue to meet and draw together to this day.
Before joining JLI Betsy worked freelance as a mural painter, website designer, graphic artist, private art tutor, and caricature artist. From 2011 to 2014 she attended Academy of Art University in San Francisco, graduating with an AA in Visual Development Art for Animated Feature Film. She is currently writing how-to-draw books in her free time. Betsy also serves the community as a volunteer instructor for non-violent self-defense.