Classes & Workshops Sept-Nov
Tue 4-5 pm
DRAWING BASICS
Jan-March 2018
Drawing My Little Pony characters is a fanciful and fun way to learn the basics of animal figures - both 4-legged and flying! Students will use what they learn about animal head-leg-body shapes to create their own magical animal characters.
Wed 4-5 pm
Small Sculpture
Jan-March 2018
Participants will practice drawing characters from Avatar, the Last Air Bender from different angles, then build small scale (up to 5 inches tall) sculptures of those characters. Steps include creating the armature "skeleton" to support the clay, building up the form with aluminum foil, then sculpting-baking-painting to finish the sculptures. Each sculpture will take 4 weeks to complete.
Wed 5-6:30 pm
DEVELOPING PERSONAL STYLE
Jan-March 2018
Fan Favorites takes a new turn as we move beyond reproducing to re-imagining characters suggested by the class. After drawing each character "on model," each student will be drawing one of the characters differently from their current appearance in order to cultivate each artist's personal art style. During the final class of each month, students will choose one character to ink and color into a completed illustration.
Fri 4-5 pm
ARMOR & ROBOTS
Jan-March  2018
Working with characters from Voltron Legendary Defender, we'll practice drawing natural looking human bodies, then fitting them with armor, plus non-human giant robots. During the final four weeks students will use what they've learned to design their own character from the Voltron universe in a fully colored piece.
Fri 5-6:30 pm
DYNAMIC ANGLES
Jan-March 2018
Students will learn to successfully distort human anatomy for added impact and to create the illusion of quick actions using techniques including "bird's eye view" and "worm's eye view," 3 point perspective, squash and stretch and more, all inspired by  the anime series, Haikyuu!!
Do Your Own Thing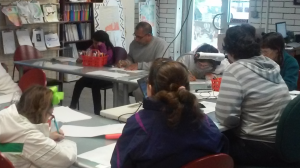 OPEN STUDIO
as space permits
The art studio is open for all Teen Impact Center members to use for developing or completing their own projects whenever space is available.  Art Studio summer hours are Tues, Wed, Fri from 3:30-6:00.  Tuesdays from 4:30-6:00 are specifically set aside for open studio use.  All are welcome to use studio materials.  When you sign in please indicate what project you are working on and what your goal is for the session. When you sign out, please let us know what progress you made.