SUMMER CLASSES July-Aug
Tues 4-5 pm
CARTOON CHARACTERS
July-Aug 2017
Suitable for younger artists, but will provide excellent practice for more advanced students. Learn to draw basic body parts -- face, hands, arms, legs, and body -- then create your own characters. Experienced artists will be encouraged to use detail and shading to add dimension to their drawings.
Wed 4-5 pm
MONSTER POP-UPS
July-Aug 2017
In the city of Monstropolis, monsters use closet door portals to scare children.  In each class, we will learn how to draw one of the characters from the film and create a small pop up card. At the end of the term, all the cards will be assembled to make a small pop-up book of monsters.
Wed 5-6:30 pm
CREATURE DESIGN
July-Aug 2017
The TV series, Gravity Falls, follows Dipper and Mabel Pines, investigating weird mysteries. We will draw, ink, and paint real forest animals, then use features from those animals to create our own mysterious creatures. At the end of the term, you'll bind the drawings into your own guidebook of weird critters.
Fri 4-5 pm
JOKE COMICS
July-Aug 2017
The manga Azumanga Daioh follows a group of high school girls through their hilarious daily tribulations.  In each class, we will learn how to draw a 4 panel joke comic using the structure of introduction, development, turn, and result. At the end of the term, we will create a book out of the joke comics we've made.
Fri 5-6:30 pm
DIGITAL COMICS
July-Aug 2017
Supersonic Girl is an otherwise "normal" teenager from Radio City who attends high school, and fights supervillains.  In each class, we will learn about a feature of digital comics such as storytelling, panel layouts, or lettering. Topics will include character design and comic layouts.  Each student will create their own original digital comic.
Do Your Own Thing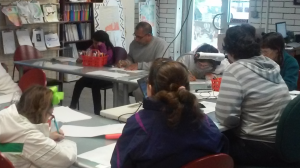 OPEN STUDIO
as space permits
The art studio is open for all Teen Impact Center members to use for developing or completing their own projects whenever space is available.  Art Studio summer hours are Tues, Wed, Fri from 3:30-6:00.  Tuesdays from 4:30-6:00 are specifically set aside for open studio use.  All are welcome to use studio materials.  When you sign in please indicate what project you are working on and what your goal is for the session. When you sign out, please let us know what progress you made.